Autumn – it's a season of more possibilities for riding on a running bike. Your little champion will be really happy riding on his running bike on golden foliage fallen from trees! Or riding with wind through a big puddle with splashes flying away to all directions! Oh, maybe, you have a child who is a true explorer-pathfinder and wants to evaluate a possibility of passage through mud area with obstacles!
ACTIVE PASTIME IN THE OPEN AIR IN AUTUMN AND WINTER IS MUCH HEALTHIER THAN IN SUMMER, ALTHOUGH IT SOUNDS STRANGE. IT CAN BE EASILY EXPLAINED – TEMPERATURE IS DECREASED, AIR BECOMES MORE SATURATED WITH OXYGEN, IT'S EASIER FOR A CHILD TO BREATHE, NO EVAPORATION FROM ASPHALT GOT HOT FROM THE SUN. IT'S A CORRECT TIME TO START TO INCULCATE LOVE FOR SPORT IN A CHILD.
Possibly you will have a question if it's necessary to buy a running bike for your kid now or you should wait till sping comes? Certainly everybody personally decides how to spend this winter: actively or on sleds? And what is more convenient for you – to run down your child or pull the child along? And what is better for the kid – to freeze through in 3-4 sweaters and then to be ill for weeks, or move-move-move and be stronger in health and immunity?
Surely you may wait for spring. Though even in such case it's better to purchase a running bike a little in advance in order your child could ride on it for some time at home. And when roads-routes are clear from snow, you will have already a trained running-biker.
However it's recommended not to wait tille sping thaw: don't bereave your child a possibility to develop and just lose irretrievably 3-4 or even 5-6 months! In our territory a child doesn't have a chance to ride because of weather conditions (ice-covered ground or heavy snowfall) only 2-3 weeks. And if you don't want your child to sit under a blanket all days at home, but quite the contrary – you want your child to be moving, become stronger, healthier, cleverer – there is only one way: take your child, let him take his running bike and start on a journey – to new discoveries and achievements!
Entertainment variants for those who doesn't want to part with a favourite running bike even in winter:
1. The most efficient one and which doesn't need any additional expenses.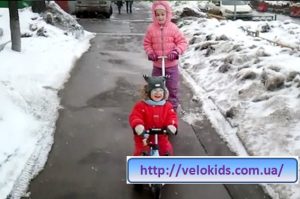 Take a running bike and learn to ride on winter roads. If there is no ice-covered ground and no new lade-down snow in the street, i.e. it's easy for you to walk on the road, in such case your child will be also able to ride on his running bike on the same road. Surely you will need a couple of days for training.
But when a kid of 2-years age goes out on a slippery road, he can't walk easily and actively at once, but for the first time he gets used to it, try, fall. Firstly better to avoid such roads when asphalt is dry, but puddles are already frozen, i.e. the kid is not ready yet that suddenly it can be slippery. And don't ride near driveways edges, because there is a possibility to dash out on it. Generally speaking if your child well mastered his running bike on nonslip roads before winter, a couple of fallings in winter snow suits will not discourage him from riding.
ATTENTION!Don't ride on ice-covered ground! Tyres and feet are slipping simultaneously on such roads. You can ride on clean roads or soft snow!
2. On the way home.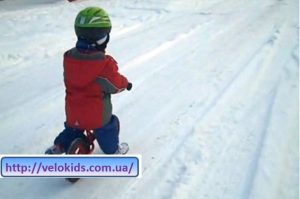 You have to bring your child to kindergarten every day? Or pick up an elder one from school? Your journey on a running bike will be 3 times shorter and more cheerful! If the weather is bad it usually takes you 20-30 mins. The same road on a running bike will take only 5-7 mins. It's even faster than with a baby carriage. And your kid will be really excited. 🙂
3. Active airing.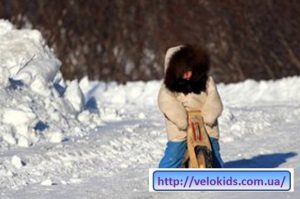 In cool weather your child on a running bike will not be cold for sure! And at that he'll get a good portion of cheerfulness and health therewith! And if there is lot of snow, he will not need protection for his hands and feet. A good hood can be a protection instead of a helmet.
Just be braver and use your imagination – and "boring" season will remain one of the most pleasant reminiscences in your kid's life. 🙂